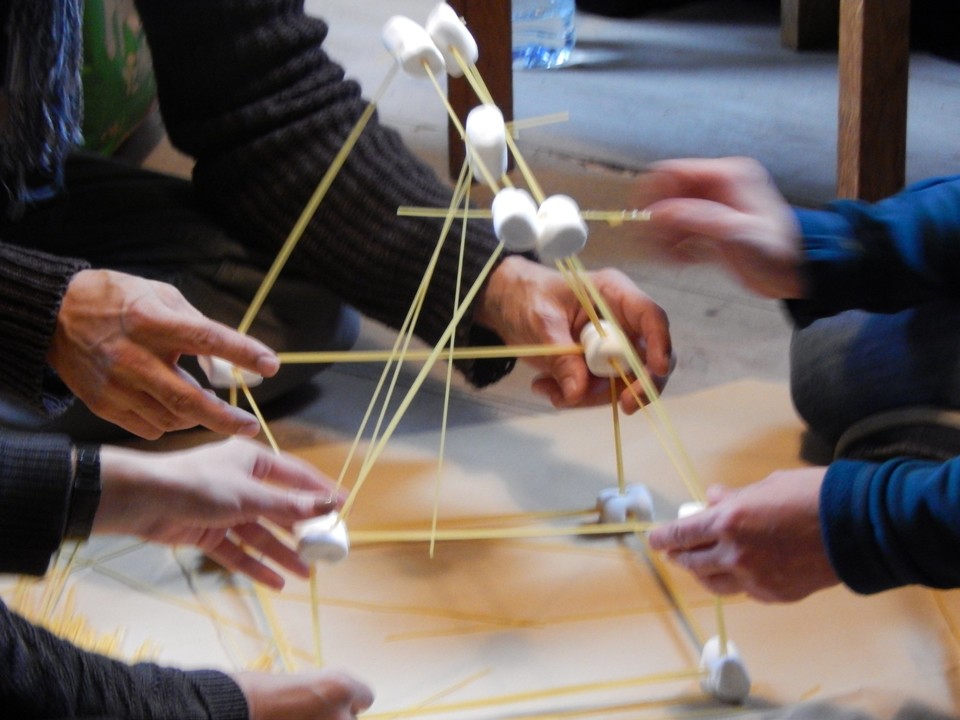 In times of digital transformation, not only are technologies, structures and processes affected by change. Ultimately, an organization must also deal with changes in cultural terms. But what does culture have to do with digitization and issues such as agility? And how can culture be made tangible if it is such an abstract topic?
So have you ever wondered if corporate culture can be specific and traceable down to processes and standards? It is. We developed a way to do so and will give you some insights. In this article, we will share one block of the four-day workshop we facilitated for one of our clients. It consisted of defining the company's most important values and specific changes to live up to these values. The workshop was based on our culture canvas which makes e.g. vision, values and its components in a company visible and enables specific discussions. Furthermore, the canvas supports the definition of changes that affects important aspects of the future culture.
Our client enpact empowers startups from emerging markets through mentoring programs, delegation trips enabling international connections, research around urban startup ecosystems and related policy advice as well as creating co-working spaces in Tunisia and soon in Egypt. Altogether this non-profit organization does a tremendous job in building up entrepreneurial ecosystems. Due to their success the team grew quite quickly, the amount of countries supported rose and the business scope increased. So, the founders took the conscious decision to allocate 4 days to re-think organizational structures, culture and in which direction strategy should go to.
The culture canvas in a nutshell
The culture canvas can be used for a whole company or a team. It consists of several building blocks:
The blocks behavior, rules, (de-)motivation, decisions and communication are typical examples showing the values in a very concrete way. This is the most difficult part but very essential.
If important for the analysis, (internal) stakeholders, business results and difference to competitors can be added. The interesting thing about those aspects is how they relate to the values. The block "enabler/blocker" helps to analyze what to change and the block change is the team agreement what to improve in a specific time frame.
We facilitated the value definition and the related changes within the following steps:
As a preparation we asked all employees to send us company values that they thought were essential for the future of the company, and their definitions.
This is one of the most important steps as it allows to identify to which extent the values are reflected in the behavior, existing norms and rules in the company. In the workshop small teams of three or four took ownership of two values each and came up with examples of daily work situations, rules, communication patterns that exemplified those values. Most heated discussions occurred when there were discrepancies between the behavior and the values. For example, many underlined how important flexibility is in working hours, however, often they felt they were working 24/7 as they were being contacted during the weekends and vacation.
3. Things to change – blockers and enablers
What are the situations or guidelines that are preventing enpact from defining he vision and living its values (blockers)? And on the contrary, which actions are firing up the good will to live up to the values (enablers)? The same teams set out to answer both of these questions and outline the steps to amplify the enablers and remove the blockers
4. Bringing it all together
One member from each team gave a brief overview of the examples and what they derived out of it. Finally, all team members focused on the intended changes. As facilitators, we supported them by getting to the basis of blockers, enablers and finally defining changes as measurable to dos/ tasks.
After going through the most important values we had a better understanding of what drives the team and what needs to be changed. The main outcome of this process was a list of 19 decisions and to-dos. The team discussed the tasks, prioritized them and every employee took responsibility for one with an agreed deadline.
What did they get out of this canvas-session?
Main benefits of the culture canvas:
allows focused discussion of values and goals
definable action points derived to improve overall performance
Definition of important company values
Changes in project management
Changes in meeting structures
Definition of information flow
Onboarding processes
Personnel development
Regular "improvement meetings" to evaluate progress of improvement activities
For the discussions about values it is good to involve a neutral facilitator who is free to go directly to the reasons behind a blocker or enabler. A facilitator helps structuring the complex discussions in order to find practical measures for improvement or even helps to translate when there are misunderstandings driven by emotions.
Although the workshop was very intense, it was only the beginning. Therefore, every month an improvement meeting takes place, where the results of the activities are evaluated and new activities defined. Furthermore, on a weekly basis a standup meeting was installed to motivate and support the team members in their improvement activities.
There is quite a way to go, but we from Apiarista Consulting are sure, that this incredible team will continue its way and be even more successful. We were very proud to support the retreat as facilitators with our methods and are looking forward to the next steps of enpact.